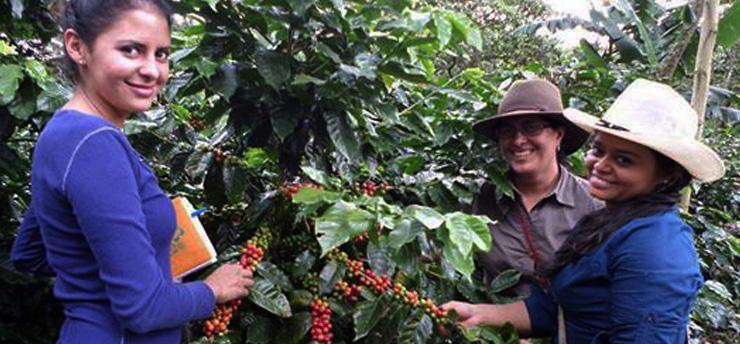 It is now peak harvest season for Cafe Solar, which means that everyone in Honduras is working flat out.
The 250 or so farm families high in the Yoro mountains spend long days picking the ripe coffee cherries, from which they extract the seeds (the beans). Cooperativa COMISUYL, their local co-op, is processing those beans non-stop, 1400 pounds at a time, in its unique green-energy dryer.
Back in Toronto, Derek Zavislake is following harvest progress very closely, and with a lot of satisfaction. He, too, is involved, because he heads Merchants of Green Coffee, the company that directly imports the entire Cafe Solar output each year.
Derek is pleased because, first, this has the makings of a great harvest. "The growing season had the right rainfall and right sunlight. Harvesting began early, in late October, and it's continuing strong, with healthy bushes producing a good crop. The co-op is seeing high-quality beans."
Derek is pleased for a second reason. "This is the third Cafe Solar harvest. We now have three years of proof that this pioneering growing/processing system — 15 years in development — really works."
Big smile. "It works. It is commercially viable. You can produce high-quality coffee in a way that protects the rainforest, promotes biodiversity, uses 100% alternate energy for processing, and deals fairly with everyone involved, from the farmer to the co-op to the consumer."
Keep checking this page: we will be writing more, step by step, about the process that brings Cafe Solar from the mountains of Honduras to your coffee cup.
Next up: Picking the Coffee Cherries
And mark your calendar: the 2014-15 harvest will be available this May!