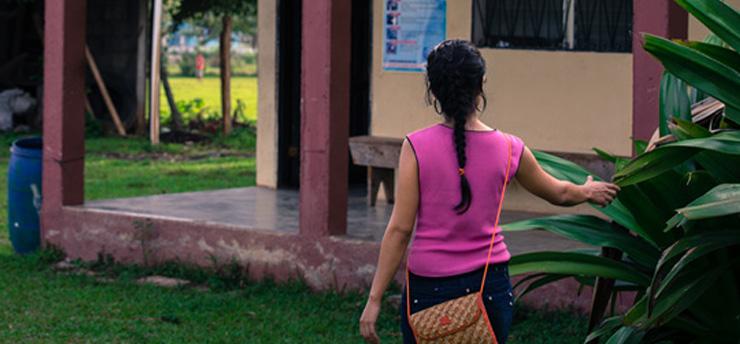 Hi everyone, my name is Cindy Raquel Dubón, and I'm from Subirana, Yoro, Honduras. Subirana is a small-town coffee producer and I work in Cooperativa COMISUYL, which is dedicated to producing coffee while protecting the environment.
Forest Protection
We place immense importance on protecting the environment because a stable climate provides the best conditions for producing good quality coffee harvests. For example, cooler weather is better for coffee than warmer weather, which is why high elevation coffee is better quality coffee. It has a more dense and delicious flavour and receives a higher SCAA rating. We recognize that if the weather on our mountain continues changing we could lose the quality of our coffee, which is the only means of subsistence in our little community. If climate change causes temperatures to increase, the coffee could develop diseases and we could lose our crops. This is why we are so interested in protecting the environment.
Job Creation
The Cafe Solar program is helping save our forests and it's creating much-needed jobs for the young people, men and women, in these rural areas. These people have to work since many of them have children and can´t finish their studies due to a lack of money. They would typically end up migrating to urban areas to work very hard for very low wages, and for factory owners who don't care about their well-being. Cafe Solar helps our community with this situation, bettering the lives of people by providing good, local jobs.
I am so happy to be a part of this program and I hope that many things in our town will be improved. I'm also excited to be writing more about my experiences with the processes of planting, collecting, and preparing the coffee for shipping. Thank you some much for visiting this site and taking some time to learn about our cause.
– –
Hola a todos, mi nombre es Cindy Raquel Dubòn, y soy de Subirana, Yoro, Honduras. Subirana es un pequeño pueblo productor de cafè y trabajo en Cooperativa COMISUYL, la cual se dedica a producir cafè mientras protege el medio ambiente
Proctecciòn del bosque
Damos gran importancia en proteger el medio ambiente porque un clima estable provee las mejores condiciones para producir buenas cosechas de cafè de calidad. Por ejemplo, para el cafè es mejor el clima fresco que el tiempo calido, por lo que el cafè de alta elevaciòn es de mejor calidad. Tiene mayor dencidad y delicioso savor y recibe una calificaciòn mas alta SCAA. Reconosemos que si el clima en nuestras montañas continua cambiando podriamos perder la calidad de nuestro cafè, lo cual es el unico medio de subsistencia en nuestro pequeña comunidad. Si el clima cambia causa incremento en la temperatura, el cafè podria desarollar enfermedades y podemos perder nuestras cosechas. Esto es porquè estamos muy interesados en proteger el medio ambiente.
Creaciòn de Empleos
El programa cafè solar esta ayudando a salvar nuestro bosque y en la creaciòn de puestos de trabajo muy necesarios para el gente joven, hombres y mujeres, en estas areas rurales. Esta gente tiene que trabajar desde que muchos de ellos tienen niños y no pueden terminar sus estudios debido a la falta de dinero. Ellos por lo general terminan emigrando a areas urbanas a trabajar duramente por salarios muy bajos, y para dueños de fabricas que no se preocupan por su bienestar. Cafè Solar ayuda a nuestra comunidad en esta cituaciòn mejorando la vida de las personas proporcionandoles empleos buenos y locales.
Estoy muy feliz de ser parte de este programa y espero que muchas cosas en nuestro pueblo se mejoraràn. Tambien estoy emocionada de escribirles mas sobre mi experiencia con el proceso de plantaciòn, recolecciòn y preparaciòn de el cafè para el envìo. Muchas gracias por visitar este sitio y tomar algo de tiempo para aprender sobre nuestra causa