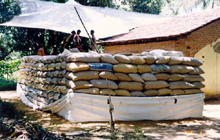 MDI is a pioneer in environmentally beneficial methods of processing coffee, including high efficiency industrial solar dryers for drying coffee beans and the subsequent storage in the (patented) hermetic enclosures called Cocoons™ and SuperGrainbags™, manufactured by GrainPro, Inc., Concord, Massachusetts, U.S.
The cooperative effort in applying hermetic technology to the problems of safe commodity storage uses air and moisture-tight flexible PVC enclosures made from a special grade of UV resistant PVC to provide a hermetically closed environment. The present application is the outgrowth of two decades of scientific work and the use of hermetic storage for a variety of agricultural uses in some 20 countries, ranging from the long-term storage of seeds to the long-term storage of various grains, such as rice, wheat and corn, and most recently extended to high-value commodities, such as coffee, cacao and spices.
All these applications share the common benefit of maintaining a constant environment inside the Cocoon, meaning no increase in moisture level, retention of any gases generated by the commodity itself, and in most cases producing very low oxygen levels and high CO2 levels due to insect or commodity respiration (when present). This low-moisture and low-oxygen state inhibits the growth of aflatoxins, a by-product of mold development that is both dangerous to health and affects quality and taste, and results in the killing of all insects without pesticides through asphyxiation.
Hermetic storage systems preserve quality and allow the storage of grains and commodities without the use of pesticide or fumigants. The hermetic air-tight and water-tight food-grade PVC Cocoons™ prevent moisture gain or loss and prevent the formation of molds. Insects that infest grains are eliminated as insect respiration within the Cocoon™ produces levels of carbon dioxide that are lethal to insect pests.
MDI has researched the application of hermetic storage and transport for coffee and cocoa in collaboration with industry and research partners. Coffee stored under hermetic conditions will not gain or lose moisture content even during long-term storage in tropical regions (country of origin). This is critical in maintaining quality and flavor, and in preventing mold and associated ochratoxins that can pose a health risk to consumers.
GrainPro Inc.  manufactures and distributes portable hermetic storage Cocoons™ for grains and commodities stored in sacks are available in sizes from 5 MT to 150 MT. The Cocoons™ allow for diversification for producer organizations to provide new storage business without incurring infrastructure costs associated with conventional storage methods.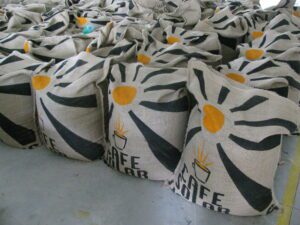 For coffee in transport, hermetic liners called SuperGainbags™ are available. Café Solar®, coffee dried using renewable energy technology is shipped in SuperGrainbags™ to ensure quality preservation during storage and transport. The patented hermetic storage Cocoons™ and can operate outdoors with a light-weight reflective mesh to prevent heating from direct sunlight, which can cause moisture migration due to differential heating.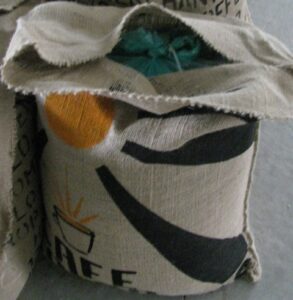 Café Solar® is stored and shipped using hermetic storage systems. MDI introduced hermetic storage to the coffee sector with GrainPro Incorporated and they are now endorsed by the coffee institutes of Honduras and Costa Rica. Of concern in coffee are Ochratoxins primarily produced by species of Penicillium and Aspergillus. Ochratoxin is damaging to the kidneys and liver and is also a suspected carcinogen. There is also evidence that it impairs the immune system. Since Ochratoxin A survives the heat of the roasting process, this is a health concern associated with coffee. The European Union adopted minimum standards for Ochratoxin A in coffee in 2005 and tests incoming coffee. In the United States, the FDA does not monitor Ochratoxin in coffee. With properly dried coffee and the use of hermetic storage, the development of molds is prohibited.
Benefits of Hermetic Storage Systems
Hermetic storage systems are a well-proven technology with many benefits to producers, exporters, and importers.
Hermetic Cocoons™ and silos eliminate the need for pesticide and fumigants for the storage of staple grains, such as, rice, corn, beans, paddy, milled rice, and other cereal crops.
Hermetic storage preserves quality and flavor.
Seed viability is greatly extended with hermetic storage.
Hermetic storage prevents moisture loss or gain even in tropical climates.
Hermetic Cocoons™ provide a low cost opportunity for producer organizations to diversify and offer storage services as a new business.
Additional information on the advantages of hermetic storage systems over conventional warehouse storage:
Try The Sustainable Coffee Created From The Mesoamerican Development Institute Research
With your support, Café Solar® is providing new solutions to deforestation associated with coffee production and processing.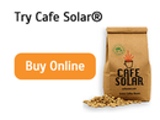 Donate To the Research!
Your donation supports the training of local youth in the implementation of forest-friendly Integrated Open Canopy and coffee processing using clean technology in harmony with Pico Pijol National park.